Latest Happenings at Eden-Page 62
Page 1 2 3 4 5 6 7 8 9 10 11 12 13 14 15 16 17 18 19 20 21 22 23 24 25 26 27 28 29 30 31 32 33 34 35 36 37 38 39 40 41 42 43 44 45 46 47 48 49 50 51 52 53 54 55 56 57 58 59 60 61 62 63 64 65 66 67 68 69 70 71 72 73 74 75 76 77 78 79 80 81 82 83 84
85 86 87 88 89 90 91 92 93 94 95 96 97 98 99 100 101 102 103 104
See the pictures here first - (click on picture to enlarge, click back on your browser to return here)
21/08/07 Dahlias a great summer flower and the duck pond is a mass of colour.
21/07/08 in the Med Biome there lots to see, the cacti are now in bloom.
31/07/07 As you approach the Eden Street on the left is what looks like it could be a home for the Beast of Bodmin. It's a example of the Den Challenge down by the Dome Tent.
31/07/07 All the materials you need are in the Dome Tent and the Arena is a fine piece of grass to build it on, you supply the ideas.
31/07/07 The idea is to get children of all ages outside and reconnect them with nature and the community. It's a huge hit with the kids and they get into Eden Free after 4.30 on Tuesdays Wednesdays and Thursday late opening Summer evenings.
31/07/07 Lots to see on stage with the Edge exhibition and Eden Ales there too, not for the kids of course. Watch , listen and join in with the Junk Percussion Band, Big Beat Video Clip
Here a clip from another Junk band Weapons Of Sound
31/07/07 Loads of fun everyone, late opening staff keep an eye on the proceedings.
26/07/07 Fibonacci Talk to friends of Eden in the Foundation Building by Dr Ron Knott, a maths and computing lecturer formerly of Surrey University. We learnt how nature uses magic numbers and The Golden Section and how architects are using golden proportions in their buildings, as in the Core at Eden. Video clip Dr Ron Knott (bees) Clip2 Fibonacci the man
26/07/07 A patch work quilt based on Fibonacci numbers which was brought in by one of the friends. Questions from the floor were welcomed after the talk.
24/07/07 Lilies adorn the pathways to the Biomes.
24/07/07 Summer in the Garden's of Eden and a view of the new hammockry.
24/07/07 All the blue's of a summers day.
22/07/07 First on stage were the 'Dirty Pretty Things' heavy rock/punk. Video Clip DPT
22/07/07 Dirty Pretty Things with their raw Clashesque sound accompanied by feedback.
22/07/07 Pet Shop Boys were next on stage with singers, dancers, synchronised projections.
Video Clip Pet Shop Boys West End Girls
22/07/07 High impact show with a string of their hits and sing-along songs like, West End Girls and grand finale Go West where the entire audience of around 3500 joined in.
Video Clip (encore) It's a sin & Go West
22/07/07 Another really good night and thank you to everyone who booked the groups and all the staff who saw everything run smoothly for this season of Sessions.
22/07/07 The Stage Coach is at Eden again and they are off on the last Session of the Season with the Pet Shop Boys tonight there seems to be a massive light show.
22/07/07 A model of the Edge Biome is on display in the Edge show case on the Stage area. Coco beans exhibit also in the stage area.
22/07/07 Alpro Soya products with free samples and discount vouchers. A wall of many colours the importance of 'Recycling'.
22/07/07 Evening Primrose in the beds of Eden, and exotic blooms in the Rainforest Biome.
22/07/07 The Rainforest Biome is full of colour at this time of year.
22/07/07 Off a a jungle discovery expedition.
22/07/07 This years crop of sunflowers are growing well. 'Kernaf' Hibiscus cannabinus originates in Africa is used for a wide variety of purposes, including the making of paper, cloth and rope, its seedlings can be eaten as a vegetable too.
18/07/07 The evening Session with Chris Smith and Stoney Island Ferrymen in the Med Biome Followed by Mark Ronson and Lily Allen the main stage. Video clip of Chris and band
18/07/07 Behind the fence is Lily Allen.
18/07/07 Mark Ronson with guests, Alex Greenwald, Daniel Merriweather, this was no support act, the audience were bouncing in the air, the whole evening was electric.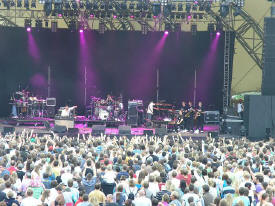 18/07/07 The audience were more than warmed up they were red hot for more. I have been to everyone of the Sessions that have taken place at Eden. They have all been good, but the atmosphere at this one was something else. Video Clip Mark Ronson 'California'
18/07/07 Lily Allen live at Eden, just amazing. Video Clip 'Sun is in the Sky' Lily Allen
18/07/07 Lily. A vision in a flowing white dress, 'quote from the newspaper'
The only disappointing thing is there's only one more Session this year. On Sunday The Pet Shop Boys perform and I'm sure that will be amazing too.
Video Clip Lily talking to the audience. Video Clip 'Lily's words to Mr Bush'
18/07/07 Lily Allen on stage at Eden Relive the moment Video clip 'Smile' 'My little Brother''
17/07/07 The Evening session began with Tim Hill in the Med Biomes. Video clip of Tim
17/07/07 Elvis was there too, now living in Camborne I understand. Leon Jean Marie were first on stage at 8.10pm slightly late. Video clip shortly.
17/07/07 Amy Winehouse followed at around 9.30 playing to a capacity crowd of around 6000. The band were fabulous and did a marvellous job of supporting and finding Amy, when she wondered off stage at one point during the show. Video clip Amy's Amy losing it slightly
17/07/07 After a one number encore at around 10.30 it was all over and a steady river of punters flowed up the zig zag path and home, well most did, there were still a few left behind.
17/07/07 It was a good evening and at this point the staff get to work cleaning the plastic glasses and bottles that laid around the Arena, as they will be at full stretch again tomorrow night with the Lily Allen session.
16/07/07 The stage is being set for two consecutive sessions, Amy Winehouse, tomorrow and Lily Allan on Wednesday. The new pagoda style building is complete.
16/07/07 The roof of the pagoda style building called a hammockry. The summer flowers are coming into their own in the Eden gardens.
This is page 62
Page 1 2 3 4 5 6 7 8 9 10 11 12 13 14 15 16 17 18 19 20 21 22 23 24 25 26 27 28 29 30 31 32 33 34 36 37 38 39 40 41 42 43 44 45 46 47 48 49 50 51 52 53 54 55 56 57
58 59 60 61 62 63 64 65 66 67 68 69 70 71 72 73 74 75 76 77 78 79 80 81 82 83 84 85 86 87 88 89 90 91 92 93 94 95 96 97 98 99 100 101 102 103 104
You saw it first on www.eden-project.co.uk