Latest Happenings at Eden-Page 13
Back to map page Back to Index page
Page 1 2 3 4 5 6 7 8 9 10 11 12 13 14 15 16 17 18 19 20 21 22 23 24 25 26 27 28 29 30 31 32 33 34 35 36 37 38 39 40 41 42 43 44 45 46 47 48 49 50 51 52 53 54 55 56 57 58 59 60 61 62 63 64 65 66 67 68 69 70 71 72 73 74 75 76 77 78 79 80 81 82 83 84 85 86 87 88 89 90 91 92 93 94 95 96 97 98 99 100 101 102 103 104
See the pictures here first!
18/03/02 Visitor Centre, Gallery end, new construction. Looking east along the Visitor Centre the glazing is in the new part of the building, Piazza, planned to be ready for Easter.
18/03/02 Serous building on Apple 2 car park - floor levelling.
14/03/02 Today's puzzle picture 'What's this member of the green teem doing in the HTB?
a. Watering the coco trees? b. Spreading nutrient (fertilizer)? c. feeding the snake?
d. Spreading small bugs to eat other pests?
14/03/02 Apple two car park getting the works? Kit of parts to build a ? wait and see time.
14/03/02 Window frames being fitted to the Visitor Centre. Foundations being dug in Apple two car park. Looks like a building or maybe a shelter going up.
14/03/02 Building work is going on at a fast pace in the Visitor Centre. Have no fear this electrical engineer had a hard hat on his head, but it didn't help very much.
14/03/02 Bamboo house gets a roof - HTB. It's a bee lecturer in the new white rooms, now surrounded with plants and trying to hide to the right of the Biomes.
14/03/02 Flowers in the Humid Tropics Biome.
14/03/02 New flags for Easter, going up today.
08/03/02 'Emma' one of Eden's story tellers, tells the story of 'Fair Trade Chocolate' at Eden's Fair Trade products. A chance to leave your mark in Chocolate and eat some!
08/03/02 WTB Spring flowers display and Peach blossoms
08/03/02 Green split peas, speckled kidney beans, Adzuki beans, Cannellini beans, Puy lentils
Yellow split peas, Turtle beans, Butter beans, Soya beans, Mung beans, Black eye beans, Red split lentils, Green lentils, Chick peas, Lupins. 'Beans of the world' exhibit WTB
08/03/02 Bamboo house under construction. Morocco Red restaurant - good tasty local food
08/03/02 Bamboo house, now this is a tall one and something to see.
08/03/02 Sprucing up all over Eden ready for Easter. HTB new bamboo house.
08/03/02 Green Team hard at work as usual. Green sheds - are Pasty ovens, handy for lunch!
08/03/02 What looks like a permanent circular building, or maybe a tent - foundations, taking up a great deal of space in the Arena- watch that space to see what emerges.
08/03/02 Building outside of the Gallery. Window frames ready for glazing.
08/03/02 The Street, the glass wall comes right out to the edge, so therefore more space inside
08/03/02 My first thought was, that these were window frames, but on second look they are screwed to the wall, so I guess some form of shelving supports.
08/03/02 Part of the new entrance doors to the Visitor Centre. Inside view, building going nicely, polished wood floors protected by cardboard, while work goes on.
02/03/02 Coffee chain boat planted. HTB Eden guide and the green man - meet him at Eden!
01/03/02 New exhibit being built in the HTB A warm and tropical view in the HTB 007
01/03/02 Bond filming well under way
27/02/02 New entrance doors of the Piazza. Biomes glowing in the late February sun.
27/02/02 Eden shop doing brisk trade in spite of being a bit squashed at this time in to what was the Gallery. New hard wood floor of the new Piazza being sanded.
27/02/02 Much building and planting going on all over Eden, with little disruption for visitors.
27/02/02 HTB looking good in between showers. Fragrant spring blooms in the WTB
27/02/02 It looks like the filming of James Bond movie is soon to happen, as lorry loads of lighting are standing by in the car park and special effects winch gear is waiting in the HTB.
23/02/02 New kitchen completed for the new restaurant in the Visitor Centre. Outside blooms
23/02/02 Work progressing well on the new look Visitor Centre opening end of March
23/02/02 HTB log wall now in place. Children's Eden art on display in the education building
There is some very exciting exhibits here, A series of them will be shown on this site shortly.
23/02/02 The Robin over wintering in the warm! Among the bamboo of the Malaysian house livestock in the form of chickens are enjoying their new home.
23/02/02 New raised beds near the tomato exhibit and colourful blooms in the WTB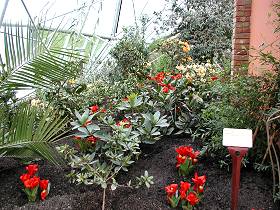 This is page 13
Page 1 2 3 4 5 6 7 8 9 10 11 12 13 14 15 16 17 18 19 20 21 22 23 24 25 26 27 28 29 30 31 32 33 34 35 36 37 38 39 40 41 42 43 44 45 46 47 48 49 50 51 52 53 54 55 56 57 58 59 60 61 62 63 64 65 66 67 68 69 70 71 72 73 74 75 76 77 78 79 80 81 82 83 84 85 86 87 88 89 90 91 92 93 94 95 96 97 98 99 100 101 102 103 104
You saw it First on www.eden-project.co.uk