Latest Happenings at Eden-Page1
Back to map page Back to Index page
Page 1 2 3 4 5 6 7 8 9 10 11 12 13 14 15 16 17 18 19 20 21 22 23 24 25 26 27 28 29 30 31 32 33 34 35 36 37 38 39 40 41 42 43 44 45 46 47 48 49 50 51 52 53 54 55 56 57 58 59 60 61 62 63 64 65 66 67 68 69 70 71 72 73 74 75 76 77 78 79 80 81 82 83 84 85 86 87 88 89 90 91 92 93 94 95 96 97 98 99 100 101 102 103 104
Big Huge Plants for the biomes arriving soon see the pictures here first!
11/10/00 Warm is getting more soil. Planting of the Arena bank going well in spite of the rain.
11/10/00 Heavy rain and wind not making life easy. The pumps are working hard.
06/10/00 Even more plants arriving. 06/10/00 The lake is getting lots of attention.
03/10/00 Warm biome getting ready for planting. Lake is drained again ready for completion.
03/10/00 `Media day` everything's happening as TV cameras roll
28/09/00 Plants ready for planting. The Cornwall rockery has what looks like oak trees.
28/09/00 Sky Monkeys still at work on humid. Lake get a serious pumping after 3" of rain.
28/09/00 Plants arriving by the lorry load. Temptation's ramp entrance looks interesting!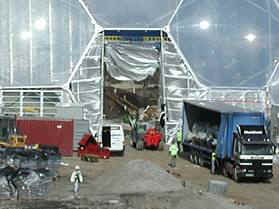 26/09/00 Planting of Arena bank. Sue Lewington called in to sign copies of her book.
26/09/00 The huge entrance to Temptation grows. Digger playing at dam building on large lake.
26/09/00 Plants arriving and being planted in humid. Soil going in the warm biome.
22/09/00 Arena bank, marked for planting. Helpful car park attendants to park you prettily
22/09/00 Temptation glazed construction of entrance. Old Cornwall plot getting work.
19/09/00 Work on the South East side of humid. Two men half way up humid.
19/09/00 Heavy rain has washed away part of the lake wall. Lights being installed on the road.
19/09/00 After lots of rain the grass roof looks greener. Close up of the business end of heating.
15/09/00 The planting of trees/shrubs and Temptation's roof grows a bit more green.
15/09/00 Plants are arriving and planting of small trees on the bank next to visitor centre.
13/09/00 Overall view. Sky Monkeys look like ants on the huge biome.
13/09/00 Emergency doorway being fitted to humid. Sides of the roofless biome getting soiled
13/09/00 Grass really is growing on the roof of Temptation. Lake bottom getting a cementing.
11/09/00 Temptation grass roof grows some more. Work on the lake continues.
11/09/00 Glass being fitted to Temptation. Close up of the heating ducting to humid.
11/09/00 Plants for the wild Cornwall plot, arrive. Pathways for roofless biome laid.
08/09/00 Sky monkeys on humid biome. 08/09/00 Landscaping of the main works entrance.
08/09/00 Lake liner another layer. 08/09/00 Soil going in by the load
05/09/00 Liner for lake being installed. Tim relaxing over coffee.
04/09/00 Sky Monkey still at work on the roof of the biomes.
04/09/00 Large concrete rings being sunk in the lake! Massive amounts of soil arriving for the biomes, to be ready for the spring opening planting must commence immediately.

04/09/00 Eden Team get videoed. Grass roof of Temptation gets attention. New access road
Panorama 30/08/00 Click to open.
30/08/00 Heat exchanger ducting being installed into humid biome. Work on Temptation
26/08/00 Sky monkeys at coffee 26/08/00 Musician playing in the street
26/08/00 Sky monkeys working on the roof of the Warm biome
24/08/00 Soil arriving and landscaping of the inside of the biomes
Crowds watch as the final roof panels are covered in, an important day for Eden. 22/08/00
19/08/00 Road way down to the biomes going in. 22/08/00 Street entertainers move in.
14/08/00 Sunshades have arrived. The staff are always happy, even at the end of the day.
11/08/00
09/08/00 11/08/00
07/08/00 Despite the hot day covering going well. 09/08/00 Try to avoid peak time visits 11.30 to 2.30
07/08/00 Small lake being excavated hillside being sprayed with green dyed seed to ensure even covering.
03/08/00 The Eden Project stamp, put them on your letters. Poly sheets being installed Arena
28/07/00 Post Box arrived. Work on large lake 31/07/00
28/07/00 Matting being installed near Gateway Building. Work on large lake.
At the business end, heat exchanger and pump installed. A look inside boiler room 24/07/00
Soil bank rounded off to leave a smooth gentle slope 24/07/00
Looking into the biome you can just see what looks like yellow bags hanging from the top of the roof. I think these must be soil coming in. 18/07/00
Work on installing heat exchangers in the HTB. 18/07/00 and good weather for covering.
The Flexi forest is growing 16/07/00 Special note 17/11/00 Flexi forest GONE!!
15/07/00 Heat exchangers for the HTB, get a lift over to the biomes 6.00am in the morning.
Part of the energy units, two gas burners and one brush wood burner.
The arrival of the heat exchangers and the big lift, when the large crane is assembled 14/07/00
The heat exchangers are to go close to the Biomes, maybe under ground.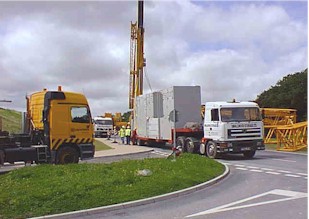 The arrival of Flexi Plants 07/07/00 Now what is a Flexi Plant?
Flexi Nursery 07/07/00 Flexi Plantation Planting 11/07/00
07/07/00
Page 1
Page 1 2 3 4 5 6 7 8 9 10 11 12 13 14 15 16 17 18 19 20 21 22 23 24 25 26 27 28 29 30 31 32 33 34 35 36 37 38 39 40 41 42 43 44 45 46 47 48 49 50 51 52 53 54 55 56 57 58 59 60 61 62 63 64 65 66 67 68 69 70 71 72 73 74 75 76 77 78 79 80 81 82 83 84 85 86 87 88 89 90 91 92 93 94 95 96 97 98 99 100 101 102 103 104