Prince Charles at Eden 15th May 2001
During his first visit to Eden Prince Charles experience for himself the land-mark millennium attraction. He was greeted at Eden's visitor centre by Devon and Cornwall Chief Constable Sir John Evens, Sir Ronald Hampel, Trustees of Eden chairman, Ken Hill, chairman of Eden Project Ltd, and chief executive Tim Smit before touring Eden's visitor centre and the biomes, and meeting the Eden Team at celebration party.
The Prince was visibly impressed with the sheer scale of Eden as he toured the massive Humid Tropics and Warm Temperate biomes. Prince Charles walked the hill-side path to the Eden Link building to meet key members of staff, including Dr Philip McMillan-Browse, who accompanied the Prince into the Warm Temperate biome, where he was invited to plant a 60-year-old pomegranate tree, which was grown in Spain for Eden.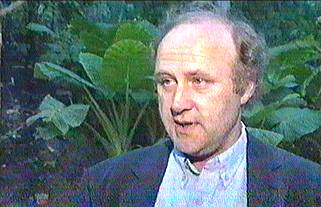 Commenting on Prince Charles' visit, Tim Smit said: "He's a very genuine guy. We didn't have much time to talk about things in detail, except he shared our belief about how exciting the Eden Project is. He enjoyed lots of things during the tour and I'm sure he will be making a return visit."
Before his departure, the Prince spent some time at a staff party mingling with 600 guests celebrating the royal visit and Eden's opening to the public two months ago.
(My thanks to BBC spotlight for these screen shots, & some info from the Cornish Guardian)