The first mate welcomed us aboard, offering beer, wine or coke, (no rum in sight) drinks were taken on the weather deck.
On the whole the ship is a faithful replica of its predecessor, with only a few hidden navigation aids. It is fully seaworthy and has travelled and moored all around the world, giving the public an opportunity to experience a taste of what it was like to undergo a voyage of discovery in the18th Century.
Below decks a lecture room has been re created in the style of that used by the famous hunter and botanical artist Joseph Banks. Within this type of environment Banks would have studied and sketched all that he saw.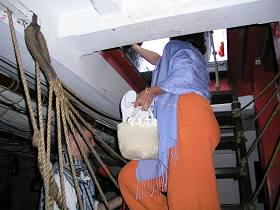 Sue Minter, Head of the Living Collection at Eden gave a short lecture and passed around some plants comparable to those collected in Cooks time.
Following the lecture we were given a tour of the ship. The rock (ballast) in the centre of the picture between the barrels is the only part of the original Endeavour which is on board. Half deck is what it is called and I see why, Charles Francis, Eden's photographer squeezing under the beams.
A few of the cabins where sketches were drawn and painted. During visiting hours these are laid out to the original design but as the cabins are used by the working crew, all has to be packed away at night.
The most amazing sight was the Captains table lit only by candle light as it would have been back then, with some original pressed plants and sketches just as if Joseph Banks had just left the room
Oh well, after a quick nap in a very comfortable 'cot' it was back on the weather deck for a final look around.
Whilst you are on board there are many scents to awaken your senses, hessian ropes, old timbers, candle wax and many more. I felt remarkably at home, cosy and safe. Obviously back on the original Endeavour there was little room for the ordinary sailor, only officers and higher ranks were afforded the privilege of their own cabin.
I am sure we will remember our visit to RMS Endeavour for a very long time, if you get a chance to visit her as she docks around the UK do go and take a look.
Thank you to Sue, Carolyn and others for arranging this visit.