The Eden Arena
11/04/01 Arena complete with tent and visitors enjoying sitting on tender green grass.
21/03/01 The Arena on preview day 03/04/01 Large tent goes up on the centre of the arena
02/02/01 21/03/01 Arena looks different now
27/01/01 The Arena is taking shape. Matting is being laid over sand to make a firm base.
25/11/00 Arena matting to hold soil fitted. 19/01/01
06/11/00 Another bank being planted 16/11/00 Arena view
11/10/00 Planting of the Arena bank if going fine 17/10/00 Planting going full speed.
22/09/00 06/10/00 Bank getting planted.
22/08/00
14/08/00 19/08/00
07/08/00 09/08/00
03/08/00 Sheeting with stones over on the floor of the arena
28/07/00 31/07/00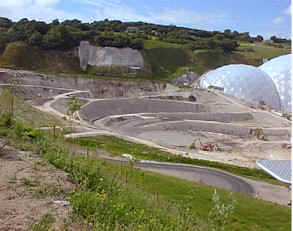 24/07/00 24/07/00
16/07/00 18/07/00
29/06/00 07/07/00
28/06/00 28/06/00
28/06/00 28/06/00
Rocks and soil appearing 24/05/00
20/06/0